Climb, Hike, and Take Pictures at Pioneer Park
December weather is usually in the mid-50s with rarely any snow – just perfect for rock climbing at Pioneer Park in nearby St. George. Reserve your stay at Zion River Resort and treat yourself to a glorious winter vacation at the end of the year.
What to Do at Pioneer Park
What can you do at a park with no playground equipment, no grass, and no beach? Climb big red rocks, that's what! This rustic, family-friendly, 52-acre community park is a rock climber's paradise, with spectacular views of downtown St. George, Zion National Park, and even Arizona.
Bring your camera and pack your lunch. Pioneer Park has a large trellis pavilion with two barbecues and fire ring, several smaller picnic areas with tables, two with metal trellis pavilions, and a separate fire pit with an amphitheater. Hike to 'The Crack' (a really skinny slot canyon), the Boy Scout Cave, historic pioneer cabins, and Dixie Rock – the ultimate vantage point to photograph incredible views.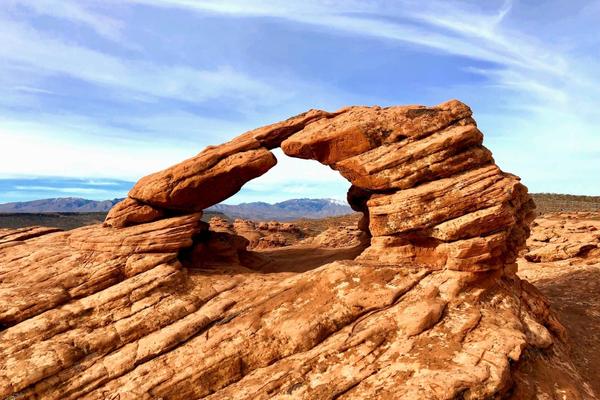 The Crack!
Pioneer Park features one of the skinniest slot canyons to be found anywhere. The Crack is about 40 yards long. Little kids can squeeze through. Mom – maybe if she turns sideways, but Dad, probably not. It's really narrow!
Boy Scout Cave
Part man-made stone structure, part natural cave, the Boy Scout Cave is half-hidden by the scenery. You'll have to explore to find it, but once you do, c'mon in. It's cool inside and has been used as a campsite for generations.
Dixie Rock
After you wiggle out of 'The Crack', you'll be well on your way to crossing the metal bridge that leads to Dixie Rock. See the dramatic skyline that's accented by the spire of St George Temple. Take selfies with this dramatic background. You'll get lots of 'likes' on Instagram!
Caverns and Critters
Marvel at the big red arch, holler in the caverns to hear the echoes, and see lizards and other wildlife at Pioneer Park at 375 East Red Hills Parkway in St. George. While you're there, drop in to Red Hills Desert Garden, it's right next door. Both Pioneer Park and the Desert Garden are completely free!
There's always lots to do in the great outdoors when you Reserve your stay at Zion River Resort!
---