Red Hills Desert Garden
Experience the beautiful colors and textures of Utah's desert garden. Discover more than 5000 drought resistant plants to enhance your own home's outdoor décor, see rare and endangered fish, marvel at dinosaur tracks, and explore a replica slot canyon. What is this magical place? It's Red Hills Desert Garden in St. George and it's free!
When you reserve your stay at Zion River RV Resort, you expect to scramble over enormous red rock formations and be dazzled by unfamiliar – yet beautiful – plants. Go to Red Hills Desert Garden at 375 E. Red Hills Parkway in St. George and find out exactly what some of these hardy beauties are. Perhaps you would like to plant some of them in your own home desert garden…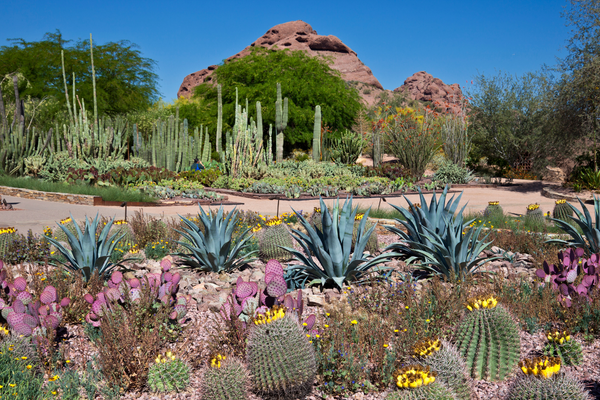 Conserve Water
Grass is thirsty. Desert landscapes are water-efficient. You could save 55 gallons of water per square foot every year by converting turf to a desert garden.Try these Utah favorites to add interest and reduce water consumption in your yard and garden at home.
Fire Chalice – these red trumpets bloom from mid-summer through fall and hummingbirds love them
Licorice Mint Hyssop –The almost addictive scent of these salmon-colored flowers and sea-green foliage is a welcome addition to any garden
Missouri Evening Primrose –Yellow blooms all summer long will self-seed another patch of primrose for next season
Take a Desert Garden Home with You
The sustainability of nature is everyone's business. Discover how Red Hills Desert Garden is able to use 5 million gallons of water LESS than a similar-sized turf landscape annually. You can too! That savings is enough to support the water usage of 50 average American homes every year. When you take drought-resistant plants home with you, your desert garden contributes to the well-being of your community forever more.
Garden of beauty for a thirsty world
Reserve your RV campsite or furnished cabin at Zion River RV Resort and delight in the stunning scenery and all the outdoor adventures you will have hiking through the wilderness of Zion National Park. Take home a souvenir that's better than a cap or mug – go to Red Hills Desert Garden and take home beautiful water-efficient plants for your own desert garden. A thirsty world thanks you.
---