Winter Hiking And Biking In Zion
Winter in Zion is a magical time of year to visit the most popular park in Utah. The weather is mild, the crowds are sparse, and the views are spectacular. With daily average temperatures reaching 50-60°F and crowds at 5% of their typical peak summer numbers, dare we say winter in Zion may be the best time to visit. So, grab your hiking, biking, and camping gear and get ready for an amazing winter vacation. In this blog, we're going to reveal some great spots to trek, ride and camp while you're enjoying the incredible panoramic views.
Hiking and biking during the winter in Zion can be an extremely pleasant experience, especially in the lower parts of the canyon. Since the plateau trails at higher elevation can be closed during the winter because of icy conditions, it's best to take advantage of the trails that can otherwise be blazing hot during the summer months. Either way, be sure to check trail conditions with the National Park Rangers before heading out on your adventure, and always be prepared with appropriate gear for your chosen excursion.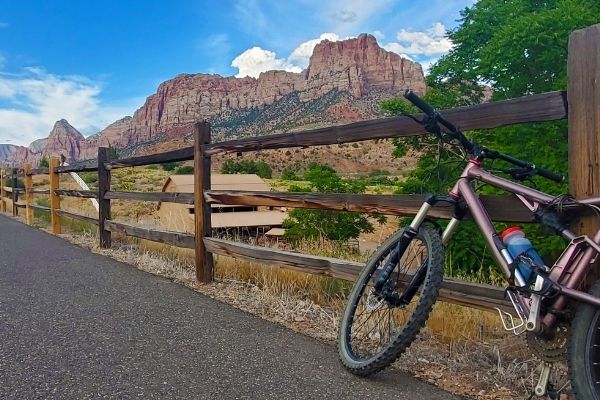 Winter Biking in Zion
Taking a bicycle ride in Zion can be a great alternative to driving your vehicle or taking a shuttle, especially since biking is allowed on all park roadways, except for the Zion-Mount Carmel Tunnel. If you plan to bike the length of the Zion-Mount Carmel Highway, the National Park Service recommends hitchhiking a ride through the tunnel. The Pa'rus Trail is a 1.75-mile multi-use trail that begins at the Zion Canyon Visitor Center and follows the Virgin River up to the Zion Canyon Scenic Drive, bypassing UT-9. Biking is allowed on the trail, but be aware of hikers, pets, and wildlife along the way.
Winter Hiking in Zion
Hiking in Zion can be great any time of year, but winter hiking is an especially tranquil experience. Huber Wash, which is brutally hot in the summer, is a fairly easy half-day hike that winds you through 2 miles (one way) of desert drainage land that ends at the Rockville and Petrified Forest Benches. Chinle Trail is not recommended for hiking in the summer, which makes it a bucket list item for hiking in the winter in Zion. This 15-mile, wide open trail takes you through the low desert, offering epic views of the surrounding mountains like West Temple, Towers of the Virgin, Sundial, and Cougar Mountain. Coalpits Wash is another lowland hike that is best suited for wintertime. Hiking Coalpits will take you through sandy terrain with boulders aplenty and views of cottonwoods, reeds, and other vegetation. If this 9-mile hike is a bit too long, you can break off after 1.75 miles into Scoggins Wash for a shorter variation.
Winter Camping in Zion
Camping might not be the first thing that comes to mind when you think of winter in Zion, but it may just turn out to be your new favorite off-season activity! Plan your hiking, biking, and camping trip now and book your RV site or cabin at Zion River Resort, where your next family adventure awaits.
---