Winter Activities Near Zion: Snowshoeing and Snowmobiling
Better known for its higher temperatures and dry weather, the Zion area of southwestern Utah offers a surprising amount of snowbound activities in the wintertime. Two of the best winter activities near Zion are snowshoeing and snowmobiling, as they are both excellent ways to immerse yourself in nature to relish the legendary scenery. When you stay at Zion River Resort, snowshoeing and snowmobiling might be closer than you think.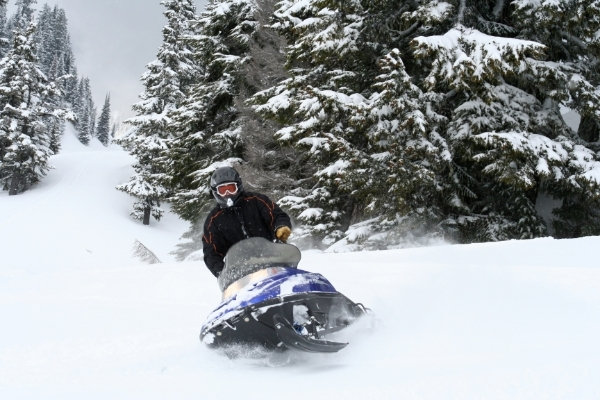 Snowshoeing
As far as winter activities in Zion go, snowshoeing is at the top of the list, especially if you already enjoy hiking. Deep snow usually prohibits the use of hiking trails but when you go snowshoeing, you'll be able traverse landscape that would be otherwise inaccessible. Snowshoes work by distributing your weight over a larger surface area, so your feet don't get completely buried in the snow. Traditional snowshoes were crafted of wood and leather, but modern ones are more technologically advanced and are made with metal, plastics, and synthetic fibers. Snowshoeing is a relatively inexpensive recreational activity, especially if you decide to rent your equipment from a local outfitter.
Once you have your equipment, there are several incredible places to go snowshoeing in the area. For some of the most spectacular views around, try Zion National Park– you'll practically have the place to yourself when you go. Another great area is the Dixie National Forest, spanning 170 miles with loads of trails ready to be tackled. The Ashdown Gorge Wilderness Area is one of the smaller parks around, but there are still plenty of miles of trails, lots of wildlife, and ancient bristlecone pines to discover. You can also take advantage of a guide service for your snowshoeing adventure, especially if you want to make the most of a shorter trip.
Snowmobiling
For higher octane winter activities near Zion, snowmobiling is the answer. A snowmobile is a motorized sled with a rubber (or Kevlar) track in the rear and two skis at the front. Fire up the motor and mash the go button for unmatched winter excitement. The Dixie National Forest, or Utah's Snowmobile Trail Complex 8, contains over 100 miles of maintained snowmobiling trails, and hundreds of miles of old timber roads open for exploration. If you aren't bringing your own snow machine, there are a few outfitters in the area that offer rentals as well as guide services.
More Winter Activities Near Zion
Amongst snowshoeing and snowmobiling, more winter activities near Zion include camping and snuggling up to a warm fire. So, bring your RV or rent one of our cozy cabins and enjoy the serene atmosphere of winter in southwestern Utah at Zion River Resort, where your next family adventure awaits.
---