Weather Forecast at Zion National Park
April is the ideal time to visit Zion River Resort in your RV – the weather forecast is beautiful! As Spring rains fall on Zion National Park and all of Virgin, Utah, wildflowers burst into bloom. Everywhere you look, you'll see deep red Indian paintbrush, pink and yellow western Columbine, and desert marigold adding splashes of color to the red rock backdrop.
Despite the occasional shower, April is perfect for hiking and exploring Zion Canyon. Want to know what the weather will be like when you visit? Get the weather forecast from the National Weather Service…just type Zion National Park into the little box.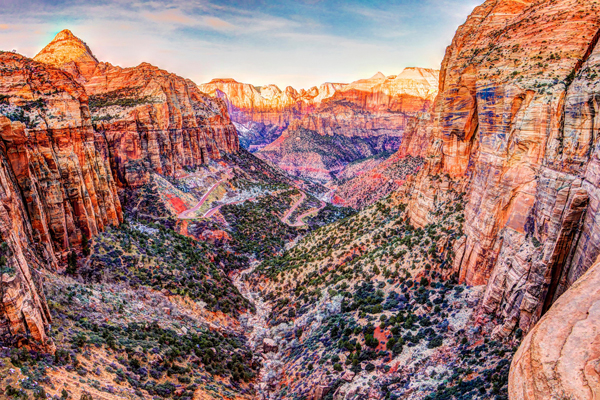 Weather, Waterfalls, and Wildflowers
The weather forecast says Spring rains and snowmelt mean increased water will be gushing over Zion National Park's many waterfalls. Three of the most dramatic falls are…
Lower Emerald Pool – Follow a paved trail from Shuttle Stop #5 at Zion Lodge which leads to the waterfalls.
Upper Emerald Pool – Start your hike from The Grotto at Shuttle Stop #6, to be rewarded by a 300' tall waterfall at the end of a sandy and rocky trail that climbs to the base of a cliff.
Temple of Sinewava – Take the Shuttle to Stop #9, The Riverside Walk, where a paved trail follows the Virgin River into a deep canyon. If you visit the Temple of Sinewava after a storm, you may be thrilled by a waterfall that only happens after a rain. Take a picture of this stunning sight immediately – it will be a dry cliff face by afternoon.
The rushing waters of the Virgin River, coupled with rainy Spring weather, create ideal conditions for ferns and wildflowers to bloom profusely near Zion's waterfalls.
Weather Forecast for your Zion River Resort Camping Trip
You'll be walkin' on sunshine when you immerse yourself in nature and reserve your stay at pet-friendly Zion River RV Resort in the lush green Virgin River Valley.
---