Visit Zion On Your Holiday Season Winter Vacation
This holiday season, point your GPS toward southwestern Utah and plan to visit Zion on your next winter vacation. The weather is beautiful, the scenery is breathtaking, and Greater Zion has a full calendar of events to keep you and your family entertained. The average daily weather during the holiday season is a mild 50 – 60°F with sunny skies, which is perfect for camping, sightseeing, outdoor activities, or just lounging around in your camp chair. The cooler evening temps are great for snuggling up next to a fire with your favorite warm beverage. But before you get too cozy, head out to one or more of these entertaining holiday season events in town: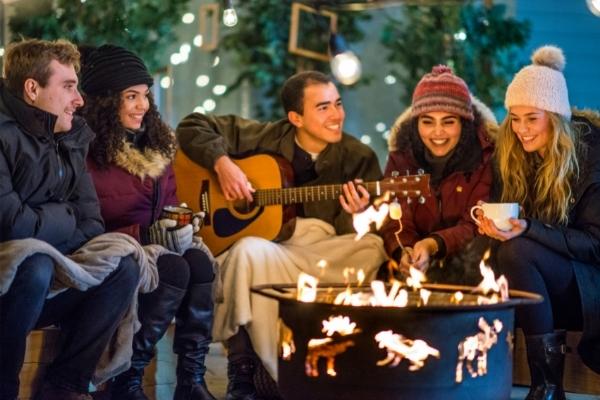 Irving Berlin's White Christmas
This live action holiday season musical from 1954 originally starred Bing Crosby, Danny Kaye, Rosemary Clooney, and Vera-Ellen as four people coming together to save a ski resort in a snowless town. Opening Nov. 18th and playing through Dec. 18th, this show plays at the St. George Musical Theater every Mon, Thur, Fri, and Sat, from 7:30pm – 9:30pm. For more information and to buy tickets, click here.
A Christmas Story: The Musical
This holiday season classic is sure to bring back fond memories and create new ones for the next generation. The iconic story of Ralphie, a BB-gun, a leg lamp, a bully, and Chinese food for Christmas dinner will certainly fill you with winter vacation holiday cheer. This show runs Nov. 26th – Dec. 22nd at the Tuacahn Indoor Hafen Theatre in Ivins, UT, and plays Mon-Sat from 7:30pm – 9:30pm. Tickets are available here.
North Pole Express at Thunder Junction
Every Friday, Saturday, and Monday from 6:00pm – 8:00pm for the first three weekends in December, you can visit Zion and bring your family to Thunder Junction for a festival of lights, train rides, and visits with Santa. Tickets can be purchased at the St George Leisure Services Office, starting Nov. 22nd, 2021. Tickets are limited to 250 per night, so be sure to plan ahead.
Robin Hood and His UN-merry NOT-men
The Rattlin' D Playhouse located in Hurricane, UT, presents this holiday season musical spoof of a well-known classic. This dinner and a show promises a belly-bustin', laugh-out-loud good time for your winter vacation. You can catch this feature from Nov. 19th – Dec. 23rd. Dinner begins at 6:00pm, and the show starts at 7:00pm. For more information and to buy tickets, click here.
Holiday Season + Winter Vacation Equals Visit Zion
With so much to see and do when you visit Zion, it's a no-brainer. Plan your holiday season winter vacation now, and book your stay at Zion River Resort, your majestic oasis in the Zion canyons of Utah.
---