Tips For Successfully RVing With a Dog
One of the best reasons to travel in an RV is that you're able to take many of the comforts of home with you on your trip. Why not your pup(s) too? Well, according to a survey conducted in part by the RV Industry Association, 65% of RVers bring a family pet on vacation with them. So, you're not alone in wanting to bring Fido along on your road trip. Before you head out, here are a few helpful tips for successfully RVing with a dog.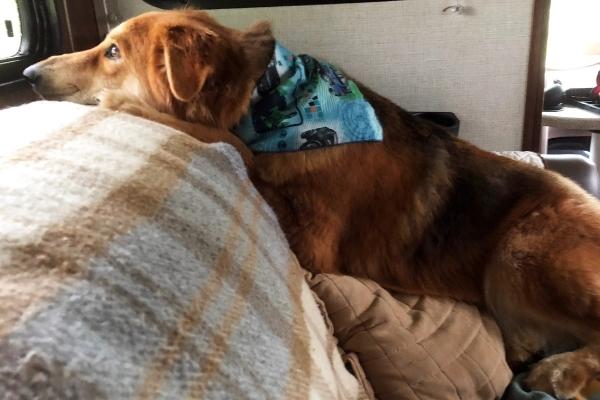 Preparation for RVing with a Dog
A bit of prep work can make RVing with a dog more enjoyable and a lot less stressful. A top priority is to make sure your dog has a clean bill of health and is up to date on all vaccinations. Be sure to pack any necessary paperwork in case you need to make an unscheduled vet visit.
You'll also want to check for correct contact information on your doggo's collar and microchip. No one wants to lose their pup but it does happen. If your cell phone number is on their collar, it's easy for someone to give you a call if your dog gets out and wanders into the next campsite.
Create a list of items you'll need specifically for your dog on your trip. Go over everything they need in a day, week, month, and in an emergency. Basic items include a crate, food, feeding bowls, leash, pet waste bags, toys, bed, treats, and basic first aid supplies, but don't forget any specialty items like medication, cleansers, etc.
Make the RV Home
Keeping your dog comfortable during the trip is important for their mental and physical well-being. Since this RV is probably new to them, you should spend some time letting them sniff around and get adjusted before you take off. Treats can really speed up this process!
If your dog has a bed, be sure to bring it and set it up in the RV where they can be relaxed and comfortable. Spread around some of their toys, put water out and give them plenty of love and treats to reassure your pup that this is all part of the plan.
Get Out and Move Around When RVing with a Dog
Dogs require exercise and mental stimulation, so get out and move around with them. While National Parks don't allow pets, one great way to help keep them active is to stay at campgrounds like Zion River Resort that have off leash fenced in dog areas so your pup can run and play fetch.
RVing with a dog can be a blast. The best way to make sure you and your doggo have a great time is with a little preparation, care, and attention to details. We hope these tips have been helpful and we'd love to meet you and your best furry friend on your next trip to Zion! Book your stay today at Zion's only 5-star resort.
---