Thunder Junction-All Ability Recreation in Tonaquint Park
The rugged beauty of Southern Utah provides non-stop hiking and climbing thrills, photo opportunities, and a wealth of physical challenges that most folks are eager to embrace.
But what if a family member is wheelchair-bound or is differently-abled from the rest of the group? Thunder Junction – all ability recreation at Tonaquint Park in Saint George offers the excitement of outdoor recreation for children of every age and ability.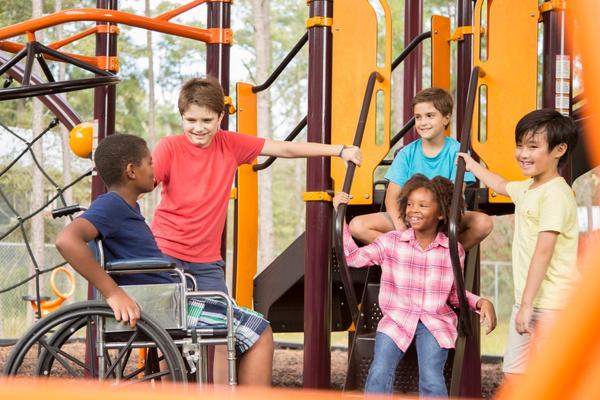 All Ability Recreation
Visit Tonaquint Park at 1851 S. Dixie Drive in nearby Saint George for all ability recreation the entire family can enjoy. It's only 33 miles away via I-15 S. Admission to Thunder Junction is completely free!
All-Ability Amenities
Thunder Junction features a dinosaur theme and includes wheelchair-accessible playground equipment, an erupting volcano, zip-lines with seats, a tree house, big sliding boards, a climbing wall, and a choo-choo train to ride you around the park. The ground is covered with a durable soft surface for ease of maneuvering wheelchairs. There are wheelchair access ramps to all areas.
Every kid loves dinosaurs, especially the giant fossil-types poking their snouts out of the Splash Pad waterfall. Wade in the water, ooh and aah at the big red rocks, and visit the musical instruments. Make beautiful sounds with the bells, xylophones, and drums.
The Train at Thunder Junction
The highlight of Thunder Junction is the choo-choo train that travels on 2700 feet of track, over bridges, through tunnels, and past the volcano. By the way…did you pack your lunch? There are picnic table inside the volcano!
Zion River RV Resort-Your Gateway to All Ability Recreation
Your vacation will be complete when you visit Thunder Junction at Tonaquint Park in St. George to enjoy its zip lines, waterfalls, and even places to climb the rocks.
Bring the family – Thunder Junction is fun for everyone. Plan your vacation at Zion River Campground, where a visit to nearby Tonaquint Park makes all ability recreation available to children of every age.
Zion River RV Resort offers handicap-accessible restrooms and showers, as well as RV camping, cozy cabin rentals, top-notch amenities, and all the natural beauty of Southern Utah.
---