The Temple of Sinawava
Named for the coyote spirit of the Paiute nation, the Temple of Sinawava is Zion National Park's massive natural amphitheater and one of its most popular destinations. Here you will access the Riverside Walk, a 2-mile roundtrip walk that parallels the Virgin River and takes you directly into the heart of the canyon.
With the sun glinting off the towering 3000′ sandstone canyon walls, mule deer, wild turkeys, small squirrels darting along the trail, and the rushing crystal clear waters of the Virgin River, it's easy to see why this place is called a Temple.
Take your camera. You'll never be able to describe the majesty of this spectacular place with mere words. You'll see lush foliage, hanging 'gardens' of colorful wildflowers, and trickling waterfalls amid the ancient sandstone rocks.
The Riverside Walk is accessible to visitors of all ages and fitness levels. Families with small children or individuals in wheelchairs can enjoy the paved trail that is shaded most of the way and provides a cool hike even in the midst of summer. If you have good water shoes and a walking stick, more adventurous folks will want to continue walking in the river for two hours to the famous Zion Narrows, where the canyon is at its most breathtaking.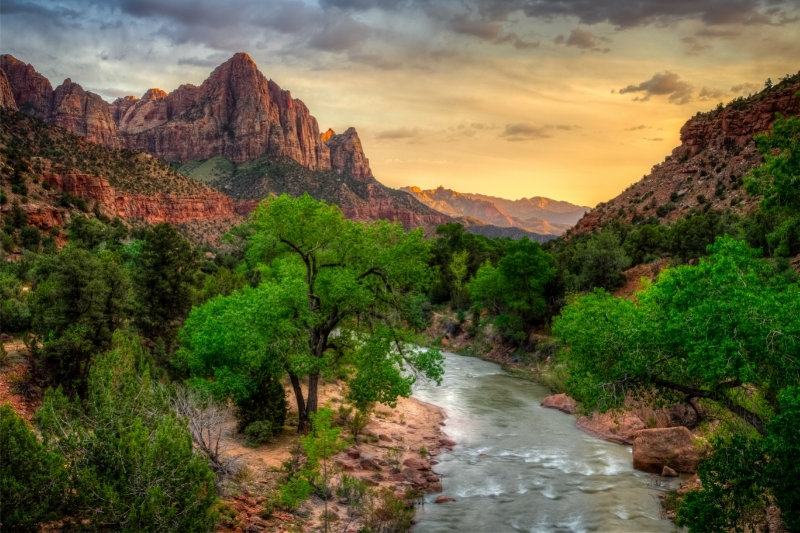 Getting There
No need to drive or look for a parking place. Just take the shuttle from Zion River Resort to Stop #9. The trailhead is adjacent to restrooms and a water station. Sorry, no pets.
Daily Activities at Zion River Resort
Immerse yourself in nature, view incredible vistas and curious wildlife, and enjoy a park full of amenities and activities. Take part in the daily fun…
Monday – Candy bar bingo
Tuesday – Root beer floats
Wednesday – Scavenger hunt
Thursday – Campfires and s'mores
Friday – Water games
Saturday – We think up something new!
Sunday – Movie night
Activities have been adjusted to accommodate COVID-19 restrictions.
Every day is a great day at Zion River Resort!
Plan your next vacation to the most memorable place on Earth – Zion River Resort. We even offer special discounts for Good Sam, Military, and First Responders.
---