The Road Less Traveled to Kolob Reservoir
Enjoy the awe-inspiring scenery of Zion National Park and escape the crowds of summer visitors there when you take the road less traveled to Kolob Reservoir. Access the wilderness, hike the trails to overlooks and canyons, and thrill to great views of distant cliffs and valleys when you reserve your stay at Zion River Resort and travel the Kolob Terrace Road.
Usually closed by snowfall until June, the least traveled highway through Zion National Park will take you along the North Creek, through High Country, offer breathtaking views from Lava Point, and finally bring you to Kolob Reservoir.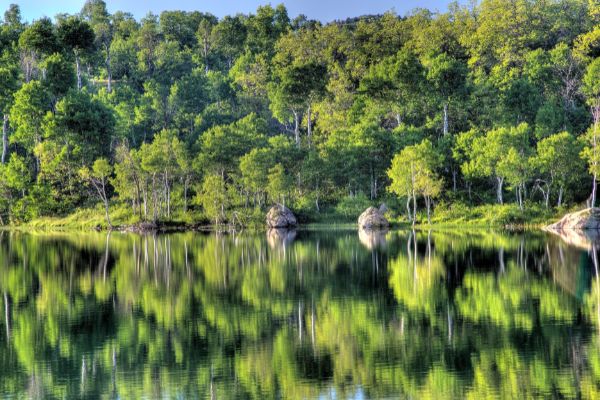 The Sights You'll See
Begin your scenic tour on UT 9 in the small town of Virgin, about 12 miles from the South Entrance ( Springdale ) to Zion National Park. Take your camera and capture the sights you'll see on your way to Kolob Reservoir…
North Creek – The road winds in and out of the Park through pasture-lands and reddish cliffs along this tributary of the Virgin River before crossing a narrow bridge and beginning a steep climb.
High Country – Alternating glimpses of woodland, remote mountains, and thick pine forests.
Lava Point – All of the Park to the north, east, and south is spread out beneath the 7,890 foot summit of Lava Point. The huge domes of Zion Canyon are visible, 10 miles away!
Kolob Reservoir – You'll pass ranches and log cabins among the fir trees until you finally reach Kolob Plateau and the Reservoir at an altitude of 8118 feet. Hike through forests of aspen and fish for trout in the tranquil waters.
Return to Contentment at Zion River Resort
Your cellphone camera will provide a lifetime of great memories of your journey to Kolob Reservoir. Share your pictures with the other campers at pet-friendly Zion River Resort when you return to your campsite. Tell them about your experiences and make plans to see even more of the amazing sights southern Utah has to offer.
Summertime is a very busy season at Zion National Park
Reserve your stay at Zion River Resort so you don't miss a moment of wilderness fun.
---