Summer Vacation: Visit Sheep Bridge Near Zion National Park
Zion National Park is vast. It contains cliffs, valleys, the Virgin River, and an incredible diversity of plants and animals. It's a perfect place for a summer vacation, and now, with the addition of another 419 acres of land known as the 'Sheep Bridge' parcel, you have even more reasons to visit. Load up the RV and reserve your stay at Zion River Campground to discover the pristine beauty of 'Sheep Bridge.'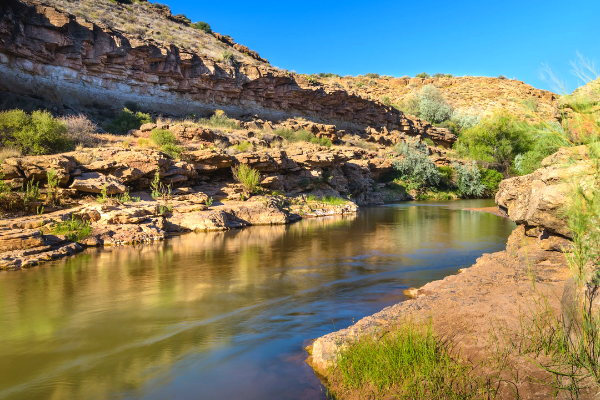 Sheep Bridge: Protected Forever
Sheep Bridge, also known as Falls Park, was acquired through the joint efforts of the Nature Conservancy, the Zion Forever Project, and the landowner himself. Sheep Bridge was originally built by the rancher to allow his animals to pass from one side of the Virgin River to the other for grazing.
This gorgeous acreage is home to all sorts of creatures seeking relief from the desert's heat. Its lush plant life provides critical habitats for birds, amphibians, and reptiles. The Virgin River itself sustains a variety of endangered fish. The Utah Division of Wildlife Resources called this parcel 'One of the most pristine river segments in the country.' And the Bureau of Land Management classified 19 miles of the Virgin River as 'Wild and Scenic.' Because of the sponsorship of all these organizations, the Sheep Bridge corridor is guaranteed to remain wild, pristine, and a treasured summer vacation destination forever.
Ideal for Swimming, Hiking, and Mountain Biking
Your summer vacation will be complete when you visit Sheep Bridge to enjoy its sandy beaches, rapids, and even places to jump off the rocks. Bring the family – Sheep Bridge is fun for everyone. Small children can catch frogs and splash in shallow parts of the river, grown-ups and older children can ride the rapids and swim. Have a look at the old bridge – it's still standing even though a newer, stronger sheep crossing has been built beside it. Visit Falls Park on the South side of Virgin River, just off Sheep Bridge Road.
Plan your summer vacation at Zion River Campground, where a visit to Sheep Bridge, just two miles from our location, is one more way to delight in deluxe RV camping or cozy cabin rentals, top-notch amenities, and all the natural beauty of Southern Utah.
---