Spectacular Downhill Skiing and Cross-Country Skiing Near Zion
Some of the best snow in the world can be found in Utah, and that's not an exaggeration. The slogan "The Greatest Snow on Earth" was adopted by the Utah Travel Council in the 1960s and was eventually proven true by atmospheric scientist, Jim Steenburgh. He coined the term 'floatation' to explain the perfect snowy conditions created by Utah's geography, topography, climate, and weather. Basically, the snow water content and the conditions that cause layers of lighter snow to fall on heavier snow make the best, fluffiest powder for downhill skiing and cross-country skiing. Here are some of the top places to hit the slopes near Zion.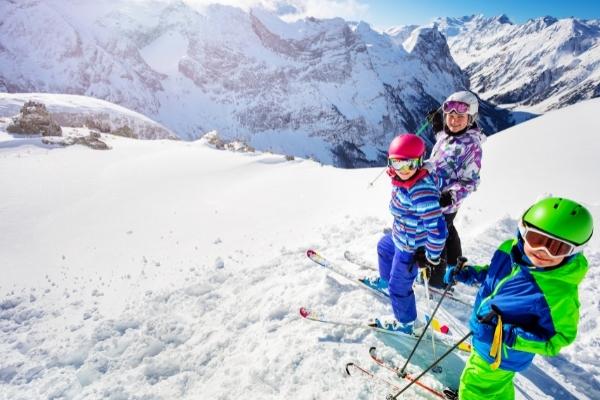 Cross-Country Skiing (XC)
Deer Hollow Winter Recreation Area, located in the Dixie National Forest, is an ideal location for cross-country skiing. This beautiful area encompasses over 1,300 acres with nearly 23 miles of groomed ski trails. The season starts mid-December and can go as long as late March. For the most up to date information, contact the Cedar City Ranger District at (435) 865-3200.
Duck Creek Village is another great town near Zion that offers miles of groomed trails for cross-country skiing. There is also access to rental equipment, lessons, and guide services.
Cedar Breaks National Monument closes its access road in the winter and opens up seven miles of cross-country skiing trails with an additional 30 miles of marked and unmarked backcountry trails.
Bryce Canyon National Park and nearby Bryce Canyon City both have extensive cross-country skiing trails. In the Park, you can ski along the Rim Trail, Bristlecone Loop Trail, Paria Ski Loop, and the unplowed Paria View and Fairyland Point roads. Equipment is available to rent in Bryce Canyon City.
Brian Head Resort has 6 miles of groomed trails and 20 miles of back country trails for your cross-country skiing enjoyment. The slopes are open for business starting November 19th, 2021.
Downhill Skiing
Brian Head Resort not only offers XC skiing but it's a premier downhill skiing experience as well. With 71 runs, 650 acres of Utah's finest snow, and some of the most beautiful scenery in the country, Brain Head is a must stop for winter adventure. Shopping, dining, and spa amenities are just a stone's throw from the slopes.
Eagle Point is located a little further north but offers the "steepest and deepest" slopes in the area. You'll also find thinner crowds, friendlier pricing, and over 400 inches of annual snowfall.
Where to Stay Near Zion for Your Skiing Adventures
Go play in the snow and then stay in the milder temperatures of Greater Zion. When you're tired from downhill skiing or cross-country skiing for the day, relax and stay with us at Zion River Resort, southern Utah's only 5-star nature retreat.
---