Snowbirds Flock to Southern Utah
Brrrrr! Is it cold where you live and getting colder? Treat yourself to a month or more of big fun at Zion River Resort. Click to see our special Snowbird camping rates, November 1 – March 23. Then call us at (888) 822-8594 to reserve your Snowbird stay.
Why Stay Home and Shovel Snow?
The typical winter weather in Virgin, Utah is a sunny, breezy 48 degrees. The rest of the US averages 28 inches of snow every year! Not us – our typical snowfall is 3 inches annually. And that's not all at once. So, c'mon, Snowbirds… if you have loved the active lifestyle and outdoors adventures all your life, this the right time to give yourself the gift of Southern Utah's scenic wilderness at a fraction of the price.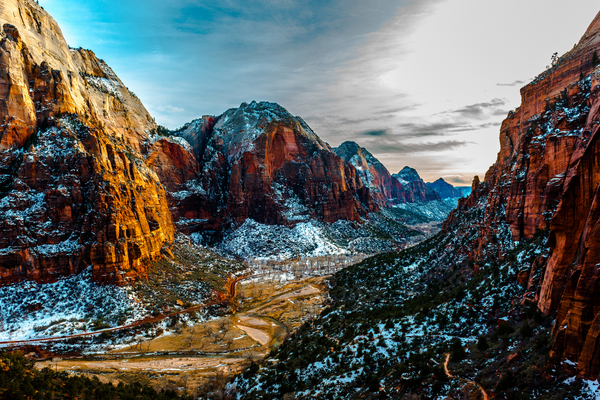 Special Fun for Snowbirds
Hardy winter hikers – like you – can get out there and enjoy the frozen waterfalls, sparkling ice crystals, and the occasional white dusting of snow on the higher elevations. Meet other Snowbirds at the weekly campfires, cook-outs, and wine & cheese events. Want to visit nearby Zion National Park? It's only 13 miles away and the crowds are considerably less than in the Spring and Summer. You can see the awe-inspiring majesty of the mountains and canyons without the crush of visitors blocking your view. Take your camera!
You can enjoy activities on the tranquil Virgin River as it flows past Zion River Resort or you can visit George Barker River Park in nearby Springdale. There you'll find ample parking, lush grass, BBQ pits, hiking trails, a nice bridge, big red rocks, and happy dogs and children running around. But no massive crowds. And it's all free.
Ideal for Sightseeing, Socializing, and Snowbirds
Your month (or more!) of winter fun will be complete when you cuddle up in your cozy RV and enjoy all of the great amenities here at the Park. Pet-friendly Zion River Resort is open all year. Stay in touch with the grandkids and the outside world with our free high-speed WiFi. Watch new-release movies on our big screen TV. And best of all, you can take advantage of our special low Snowbird rates and thrill to the glories of nature in Southern Utah until March 23.