Shuttle and Permits at Zion National Park
"…in Wildness is the preservation of the world." ~ Henry David Thoreau
Zion National Park is an American treasure with its natural rock arches, sandstone canyons, and breath-taking waterfalls. You can see all this and much more without having to drive or park the car when you take the free shuttle bus from Zion River Resort to the most awe-inspiring place on earth – Zion National Park. Hop on, hop off…you can get off the shuttle anywhere to hike to see the sights and get back on when you want to go to the next scenic wonder.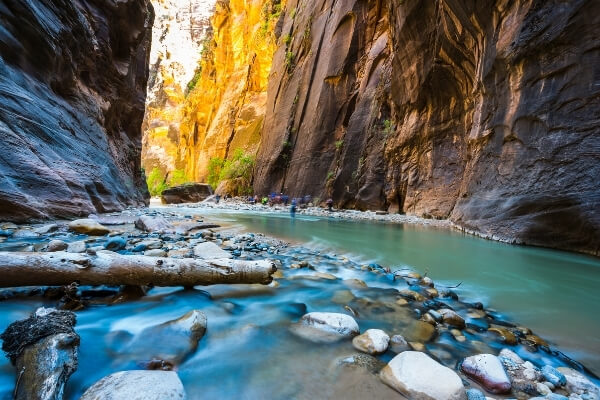 Permits and How to Get Them
Because of the enormous number of folks who want to use the park, and the delicate nature of some rock formations and eco-systems, permits are required for certain places and activities.
Day hiking – No permits required, with two exceptions – day-hiking the Narrows from the top down, or day-hiking the Subway from the bottom up.
Backpacking – Permits required.
Whitewater kayaking – Free permits required. Issued only if the river is flowing in excess of 150 cubic feet per second and must be obtained the day before your trip.
Biking – No permits required. Allowed on park roads only.
Rock climbing – Permits are not required for day climbs, but are required for big wall overnight climbs. Also, be aware…some routes close seasonally for peregrine falcon breeding. Check the park website for current information.
Canyoneering – Permits are required for all technical routes that require ropes, carabiners, and other gear.
You need a permit for many activities, so plan ahead using these four methods:
Advance Reservations: Including 1-2 Day Trips in the Narrows

Make reservations for backpacking, canyoneering day trips, and overnight climbing trips up to three months in advance. The next batch of permits will become available on the fifth of each month at 10:00am.

Use the online portal to select the sites, canyons, or climbing routes you desire and fill out the payment info.

Note: The reservation is not actually the permit. You must physically pick up your permit from a park visitor center before your trip.

Advance Lottery for the Subway and Mystery Canyon

From April to October, permits for the Subway and Mystery Canyon are in especially high demand. Three months in advance of your desired trip, complete an application, ranking three desired dates (applications accepted January through July). You will receive notification on the fifth day of the next month as to the status of your application.

Last-Minute Drawing

Sometimes people cancel! The park may have last-minute permits for canyoneering day trips available (including the Narrows). If so, you can submit an application, along with a $5 non-refundable fee, for the lottery system seven to two days out from your desired trip. The drawing runs two days prior to the requested date at 1:00pm.

Tip: This is a great option if you live within driving distance of Zion and are ready to make a quick trip happen.

Walk-In Permits

About a third of backpacking permits are available as walk-in permits. Stop at either of the park visitor centers to see what's available.

So bike on any road and day-hike or rock-climb nearly everywhere without a permit. Take your camera so you can remember your fantastic adventure in America's Scenic Wonderland – Zion National Park.
Reserve Your Stay at 5-Star Rated Zion River Resort RV Park and Campground for the camping experience of a lifetime!
---