Protecting Peregrine Falcons
Your visit to Zion River RV Resort would not be complete without a trip to Zion National Park. Steep, red sandstone cliffs, sculpted by millions of years of rushing waters, create the breath-taking views you came for.
The cliffs are a bird-watchers paradise, with hawks, eagles and kites, all sorts of water fowl, hummingbirds, swifts, woodpeckers, roadrunners, owls and other birds of prey – like nearly-endangered peregrine falcons, all flourishing within the ecosystem of Zion National Park.
Avid birders know that peregrine falcons are the largest falcons in North America. As with most raptors, the females are larger than the males. These powerful, big birds can weigh as much as 3.5 pounds with wingspans up to 43 inches!
Peregrine falcons are strong fliers and reported to be the fastest birds in the world. Their average cruising flight speed is 24 to 33 mph, increasing to 67 mph when in pursuit of prey.
Nesting as high as 1200 feet up on their perches, the falcons swoop down to carry off ducks, geese, and other shorebirds back to their nests.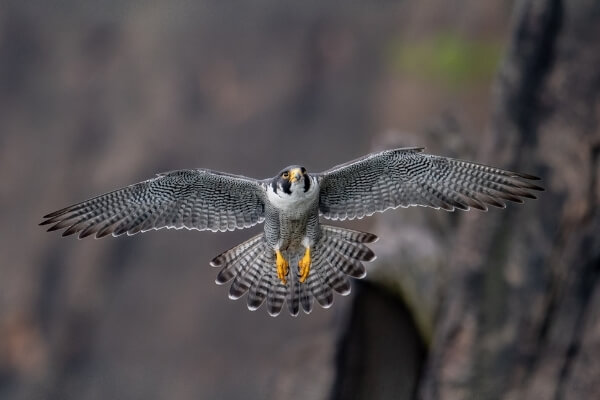 March is Nesting Season
Both falcons and human climbers love Zion's commanding cliffs. Although climbing these cliffs is prohibited during the falcons' March breeding season, hikers and birders may still bring their binoculars to observe the birds' fascinating lives.
Bring your long-lens cameras to view peregrine falcon nests on these cliffs:
Angels Landing
Cable Mountain
The Great White Throne (beyond single- and double-pitched climbs)
Isaac (in Court of the Patriarchs)
The Sentinel
Mountain of the Sun
North Twin Brother
Tunnel Wall
The East Temple
Mount Spry
The Streaked Wall
Mount Kinesava
Middle Fork of Taylor Creek
Climbing is permitted on critical cliffs for much of the year, but closed in March, when peregrine falcons begin to arrive to nest. This is to protect the breeding success of this bird, which is in recovery from endangered species status.
See Endangered Peregrine Falcons During Breeding Season. Reserve Your Stay at Zion River RV Resort Today!
---