Off the Beaten Path: Visit Grafton Ghost Town
The National Parks are obviously a big draw 'round these parts, but if you're looking for an exciting, historic detour, Grafton Ghost Town is only a quick 9 miles to our east. Grafton was used as a filming location for several movies, including Butch Cassidy and the Sundance Kid.
Grafton History
With Zion as their backdrop, five families settled Grafton in 1859 to grow cotton, but the town was washed away in a flood just a few years later. The settlers rebuilt the town a short distance away, and the schoolhouse, which still stands today was built in 1868. In this new location, the residents eventually discovered that they could not only grow cotton but also wheat and alfalfa.
The population of Grafton started to dwindle around 1907 as people started moving to larger settlements, mainly due to the harsh conditions of the land and time. The town was completely abandoned by 1944.
Today, 5 of the original 30+ structures remain, which have been restored, and continue to be maintained by the Grafton Heritage Partnership, formed in 1997.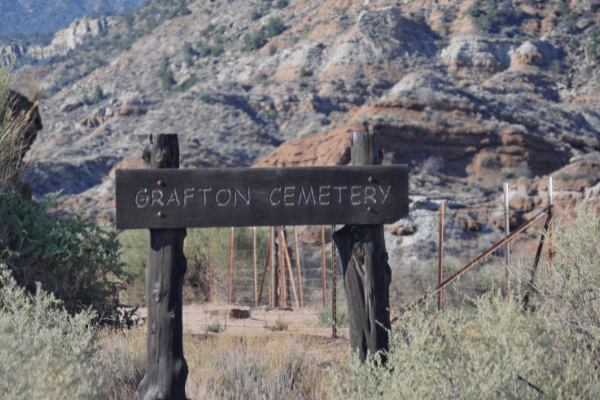 The Cemetery
No ghost town is complete without a cemetery. Dating from 1860 – 1910, the headstones located here give us some idea of what it was like to live here. Among town residents like the Berry's and the Ballard's, there are also several Native American graves located here.
Plan Your Trip
There is no admission fee to visit Grafton, but you will need to drive down 1.5 miles of clay road, so use caution in wet conditions. From the resort, turn right and drive 9 miles to the town of Rockville. Turn right on Bridge Road and drive another 3.4 miles (the road forks, but follow the right fork). The Rockville Bridge, which you will cross on the way, is its own historic site!
GPS Coordinates: 37.167, -113.081
Tripadvisor Stats
The Grafton Ghost Town has a review rating of 4/5 and is within the top 30% of things to do in Utah.
The Zion River Resort was recently awarded the Travelers' Choice award, which is given to entities that, "earn great reviews from travelers and are ranked within the top 10% of properties on Tripadvisor."
Book your RV site or Cabin now with the only 5-star resort in Utah!
---