Jewelry and Souvenirs in Utah Gift Shops
After days and days of climbing, swimming, hiking, tubing, and taking selfies with the incredible breathtaking scenery, it might be nice to narrow your gaze a little bit and feast your eyes on the gorgeous Native American jewelry and other unique items in all the Utah gift shops.
Utah Gift Shops at Zion River Resort
Start looking at Utah gift shops right here at Zion River Resort. Stroll into the Sheriff's Office & General Store and stroll out with a cold drink, a hand-woven pillow, an enamel lizard for your garden fence, children's books, and sooooo many pieces of turquoise and silver jewelry. Choose earrings, necklaces, bracelets, pendants, and much, much more.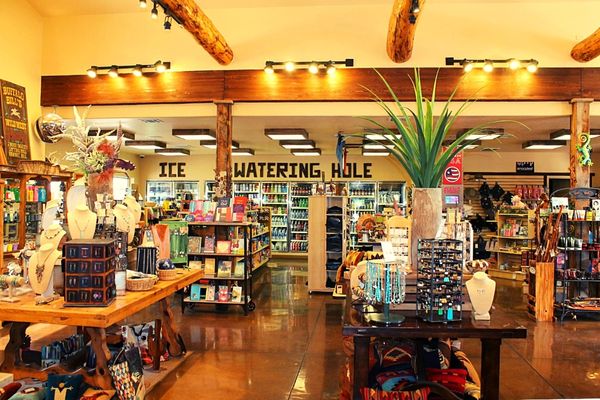 Zion National Park Gift Shop in Springdale
Some of the most popular Utah gift shops are those that are associated with Zion National Park. The Visitor Center Gift Shop in Springdale is loaded with Zion-themed shirts, beautiful rocks, hiking gear, maps, and Native American pottery. For an enjoyable shopping experience, visit the Springdale Visitor Center at 1101 Zion Park Boulevard in Springdale.
Fort Zion Gift Shop and Trading Post
Part souvenir shop, part petting zoo, part ice cream deli, and 100% fun, the Fort Zion Trading Post takes the idea of Utah gift shops to a whole new level. Bring the family for that other Wild West activity – shopping!
Pet the donkeys and the rest of the animals in front of the Wild Ass Saloon, have a buffalo burger and a prickly pear ice cream soda at the restaurant, and see the sun set over the little Western town outside. Then browse around in the Trading Post for exciting remembrances of your trip, like Stetson hats, cowboy boots, and artisan Native American jewelry. You'll find all this rootin' tootin' fun at 1000 West Hwy 9 in Virgin.
Birthdays, Mothers' Day, and Valentine's Day will be here before you know it. Stock up on wonderful Western-style presents for your friends and family back home when you shop at Utah gift shops during your stay at Zion River Resort RV Park & Campground.
---