Horseback Riding Just Like in an Old Cowboy Movie
What could be more like living during the days of the Old West than horseback riding through the desert? You can! Reserve your stay at Zion River RV Resort, and visit Jacob's Ranch for a Zion Canyon Trail Ride you'll remember forever.
Horseback Riding at Jacob's Ranch
Whether you are a seasoned rider or have never been in a saddle before, a great equestrian experience is waiting for you in Virgin, Utah. Bond with the horse of your choice during an orientation session, learn basic maneuvers at a unique Cowboy Camp, and finally ride desert trails beside creeks and through stunning mountain scenery just like in the days of the Old West.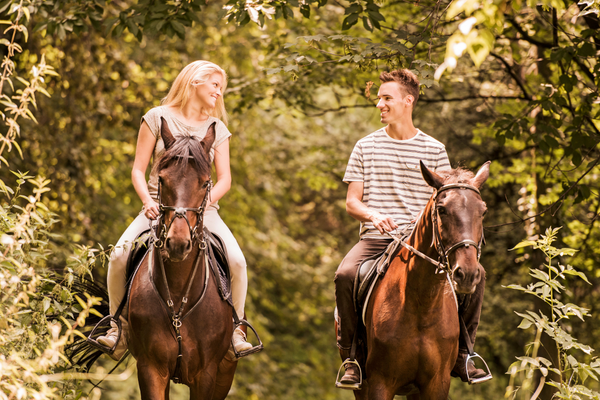 Jacob's Pledge to You
"We teach people how to love horses and let the horses, in return, trust the person before we ever put foot to stirrup. And, at the end of the day, we guarantee that your horseback riding experience will be the most exciting, adventurous and informative you've ever enjoyed or it's FREE!"
Horseback Riding is a Tradition in the West
Long before there were interstate highways, bus tours, and bicycle lanes, there was just the cowboy and his horse. Horses could go where there were no railroad tracks. Horses offered freedom. Horseback riding is the traditional means of travel and transportation in a rugged landscape. Jacob's Ranch is traditional in another way too – you can only arrange your equestrian experience by telephone. No internet, no email. Call to book your trail ride at (435) 635-1552.
Jacob's Ranch Trail Rides is at 530 UT-9, Virgin, Utah 8477
Cowboy comforts at zion river resort
Visit the Sheriff's Office & General Store, try your hand at the mining sluice, and make yourself cozy with all of the great amenities at Zion River Resort. Enjoy unforgettable horseback riding at nearby Jacob's Ranch when you book your stay at Zion River RV Resort and Campground.