Historic Silver Reef
The historic mining town of
Silver Reef
flourished between 1876 and 1890. In those 14 short years, the boom town had as many as 2000 residents owing to the discovery of minable silver deposits in the soft sandstone cliffs of the desert.
Now a ghost town, only the original Wells Fargo Express Building is still standing and it houses the museum.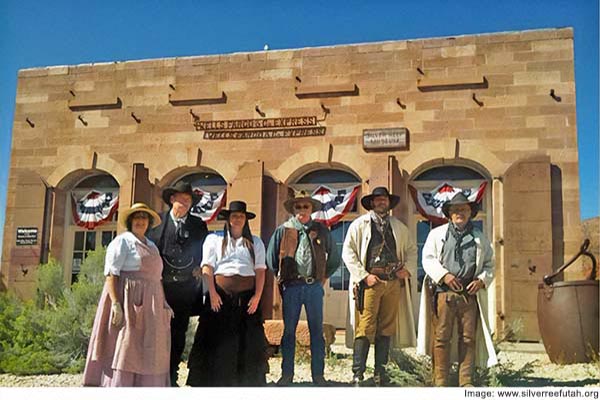 Visit Silver Reef Museum
Take a short side trip to Silver Reef in Leeds, Utah. It's only 17 miles northwest of Zion River Resort via UT-9 W and UT-17 N. Once home to 33 mines, more than 7 million ounces of silver were mined in the short time the town flourished.
At the Museum, you find intriguing glimpses into life in the Old West, including artifacts related to Chinese laborers, blacksmiths, and the few women who lived there.
Carpentry tools, Chinese gambling games, hand-blown bottles, guns, even hat-pins
Photographs and hand-written documents
Samples of Southern Utah's geologic formations
Guided Tours
Next to the Museum is the restored Cassidy Powder House. Once used to store dynamite, Cassidy House now contains models of all the silver-processing facilities, the Catholic Church, and a diorama of the main part of Silver Reef. Fascinating or spooky? You be the judge.
Museum hours are 10am – 3pm on Monday, Thursday, Friday, and Saturday. The Wells Fargo Express Museum is on the National and Utah Registers of Historic Places. Guided tours are available when the Museum is open.
Step back in time when you visit Silver Reef Museum at 1903 Wells Fargo Drive in Leeds, Utah 84746. For more information, call the Museum at 435-879-2254.
Reserve Your Stay at Zion River Resort Today.
The Silver Reef Museum has endured for more than 130 years, but camp sites at Zion River Resort are going fast!
---