Grilling with Children at Zion River Resort
Everybody wants to be the BBQ chef, from little kids to teenagers. Teach them how – safely of course. There are enjoyable age-appropriate learning tasks for every child. Who knows…you might just have a junior pit master in the making!
Safety First
Set your grill up on a level surface ten feet away from your RV. Grills shouldn't be used near low-hanging tree branches. NEVER leave children alone with the grill.
Consider your children's ages and come up with ways they can participate safely…
Little Kids – Husk corn, rinse vegetables, help set the picnic table, put buns on a platter for burgers and hot dogs, and even assemble s'mores for later. No knives needed.
Bigger Kids – Help shape and season burgers, brush meats with marinades, put veggies on skewers, mix salads, fold napkins, help younger kids, and bring foods to the table. No knives needed.
Tweens and Teenagers – Teach your big helpers the proper way to hold a knife and allow them to chop vegetables and observe the grilling under your supervision. Teach grill clean-up.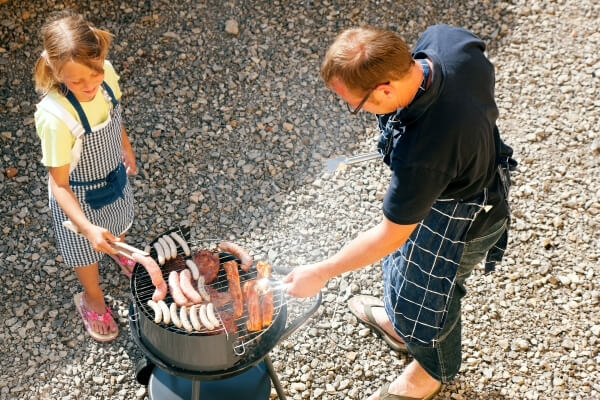 Other Grilling Tips
Keep a fire extinguisher nearby and make sure everyone knows how to use it.
Demonstrate how to use lighter fluid safely. Adding lighter fluid to a burning fire can cause flames to ignite the lighter fluid can itself.
Talk about hot areas of the grill – even the outside of it. Keep children from getting burned.
Use long-handled tongs and tools.
Demonstrate how to turn food to avoid grease splatter.
Explain why you never put cooked meat on a platter that just held raw meat. Teach the kids to wash their hands after handling raw meat.
Whatever takes the longest to cook must go on the grill first.
Let the Tweens and Teenagers demonstrate their clean-up skills – it's a vital part of the process.
Never leave your grill unsupervised!
Back-Up Plan!
Just in case your doggie eats the hamburgers or you and the kids burn everything, Zion River Resort has your back. Just order a delicious dinner from our take-out grill and pretend you cooked it yourself.
Spring time is a great time for a family BBQ at Zion River Resort. Enjoy the pool, the mining sluice, the playground, the off-leash dog park, and a million other fun activities when you book your stay.
You can almost hear the sizzle of those burgers on the grill!
Book Your RV Site Now Book Your Cabin Now
---