Even Bigger than Zion National Park Itself "the SKY"
Plan your trip to Zion River RV Resort for a 'heavenly' adventure of stargazing at the newly dedicated International Dark Sky Park in Zion National Park. Zion protects this dark sky resource for future generations by not lighting up the night. But this means that after sunset, the park is very dark! So, be prepared.
The few night-lights found in the park are at Zion Canyon Visitor Center, Zion Human History Museum, and Zion Lodge. They are red, amber or face downwards so very little ambient light obscures your view of the heavens.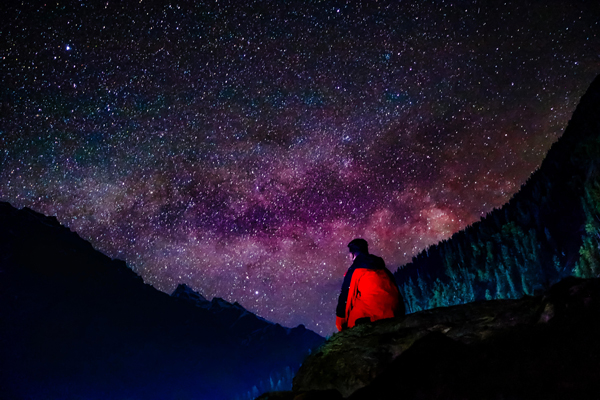 Good Locations for Sunset, Scenery, and Stars in Zion National Park
View the sky in Zion National Park in a whole new way from this newly-certified dark-sky location. Without the interference of artificial lighting, you'll see galaxies, nebulae, star clusters, double and binary stars, planets, Earth's moon, and maybe even meteor showers. Depending on timing, the International Space Station and Starlink trains might be seen passing overhead.
Head to the Museum Patio – the Park's official night sky viewing area – for great sunset views of Bridge Mountain, the East Temple, and an unobstructed look at the stars.
The Pa'arus Trail is a great option for a night stroll. It's an easy, paved path without drop-offs and little likelihood of encounters with wildlife.
On the west side of the park, the Kolob Canyons Viewpoint provides a view of the majestic red cliffs as they shine even brighter at sunset. This is also a good place for viewing the stars. Just look eastward toward the cliffs for the darkest skies.
Your vacation at Zion River RV Resort in Zion National Park wouldn't be complete without a dark-sky stargazing experience. Bring a flashlight, perhaps a planetary map, and your imagination, so you too can say, "Space, the final frontier. And boldly go where no man has gone before."
Explore new worlds when you book your stay at Zion River RV Resort!
---