Dinosaurs!
Everybody is fascinated by dinosaurs. Take your family on a little side trip to nearby St. George to walk with dinosaurs and see thousands of fossilized footprints at Dinosaur Discovery – it's handicapped accessible, dog-friendly, and only 27 miles away.
Dinosaur Discovery
Dinosaurs once rumbled through the canyons of what is now Zion National Park – stomping around, eating each other! Now, millions of years later, you can see their footprints and imagine their gigantic lizard lives.
Come through the main door of Dinosaur Discovery to enter a 200 million-year-old ecosystem that was once home to dinosaurs, fishes, and plants. You'll see five life-sized models of prehistoric animals in the dino museum and the working fossil preparation lab.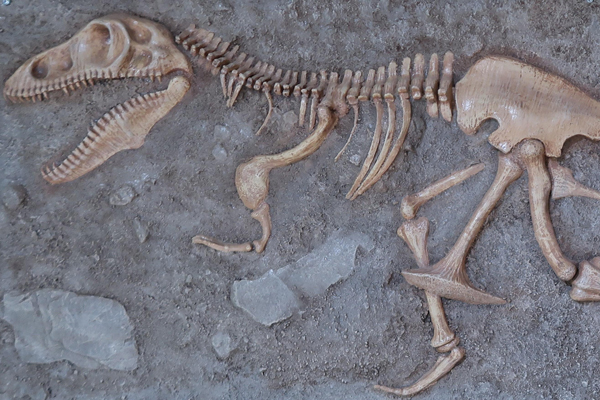 In the Dinosaur Museum
See what this area looked like 200 million years ago
Climb onto a dinosaur
Walk through time
See life-like replicas of giant lizards
Fantastic fossils of real dinosaur feet and actual skin impressions
Learn about dino behavior – crouching, scratching, running, meat-eating!
Better than Jurassic Park – this is real! Utah Paleontologist, Jim Kirkland said, "The St. George track site is not only the oldest Jurassic dinosaur site in Utah, it is the best basal Jurassic track site in western North America."
Visit Dinosaur Discovery at 2180 East Riverside Drive in St. George or call (435) 574-3466 for more information. Open Thursday through Monday.
Ancient Fossils Meet Modern Amenities at Zion River Resort
Reserve a cabin or an RV site at Zion River Resort and enjoy all the amenities that dinosaurs could only dream about…
Heated swimming pool
Dog park
WiFi
Playground
Ice Cream Shop
Big Screen TV
Charcoal grills
Shuttle bus to Zion National Park – the dinosaurs' playground
And so much more!
Reserve Your Stay Today!
The Dinosaur fossils will be here for millions more years, but camp sites at Zion River Resort go fast!
---