Can You Go To Zion In The Winter?
The quick answer to, can you go to Zion in the winter, is a resounding, YES! The winter months are a magical time in Zion, especially if you like a little solitude. Millions of people visit Zion National Park each year, making it Utah's busiest park, but the great news is that you can practically have the place to yourself during the off season. Winter in Zion is fairly mild with average daytime highs reaching 50-60°F and average nightly lows in the mid-20s. Snowfall hardly ever reaches on the canyon floor, but you can expect plenty of accumulation at higher elevations. This means plenty of opportunity for outdoor activities like sightseeing, hiking, snowshoeing, photography, and camping.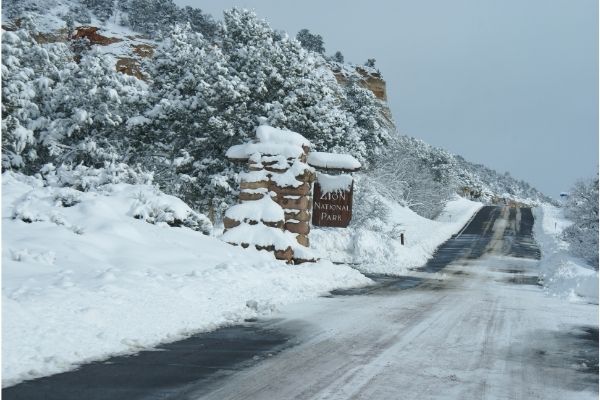 Take a Scenic Drive
In the summertime, Zion National Park accommodates its large number of visitors by prohibiting private vehicles from driving on the Zion Canyon Scenic Drive. One of the great things about winter in Zion is that they open this incredibly gorgeous drive to personal vehicles, meaning you can soak up all the surrounding beauty in solitude and the comfort of your own timeframe. If snow does fall, the roads are typically plowed with haste, but you should always check road conditions before starting your trip. And, don't forget your camera!
Layer Up for a Hike
Some trails do close for the winter in Zion, but many remain open and available to enjoy. The weather conditions are super pleasant for hiking, with many visitors shedding down to short sleeves during peak daylight hours. Be sure to check trail and weather conditions so you'll know how to appropriately dress for your adventure. Layers are best, so you can accommodate any changing outdoor conditions. Some of the most recommended winter hikes are Observation point, Cable Mountain, Chinle Trail, Riverside Walk, and Emerald Pools.
XC Skiing, Snowshoeing and Snowmobiling
In the higher elevations of Zion National Park during the winter, the snowpack is excellent for cross country (XC) skiing and snowshoeing. The Kolob Canyons and Kolob Terrace offer trails with wonderful opportunities to enjoy the winter views. Snowmobiling is not allowed in the park itself but there are plenty of great trails just outside the boundaries.
So, Can You Go to Zion in the Winter?
The answer is of course, Yes, and it's an absolutely amazing time to visit. With the mild temps, reduced traffic, and gorgeous surroundings, it's the perfect opportunity to experience the area. So, plan your trip for the winter in Zion and book your RV site or cabin with us at Zion River Resort, where your next family adventure awaits.
---