A great day trip to fun in the snow! by Diane Cain
What a GREAT time to visit Southern Utah.  The best thing about staying with us here at Zion River Resort during the winter months is that we have great weather as we are below the snow line so we rarely see the white powdery stuff BUT we are 45 minutes away from Brian Head Ski Resort.  If you're anything like me; we are not fond of the "white stuff". I do love to be able to take a short drive; play in the powder and then leave it behind and come home.  My family and I take a yearly trip to Brian Head and I would like to share our experiences with you.
Last February we packed up the car with our snow suits, hats, gloves, and excitement!  We had a nice breakfast at Wild Cat Willies in Springdale and then headed for highway 15 and North bound we went!  We arrived at Brian Head around 11 am.  What a temperature difference!  We immediately put the snow gear on and then headed to the ticketing booth.  I ordered our snow tubing passes on line and we had a slot for 11:30am.  You get a 90 minute session for $18 and depending on availability you can reserve for the Giant Steps Tubing or the Navajo Tubing.  We had reservations for the Giant Steps.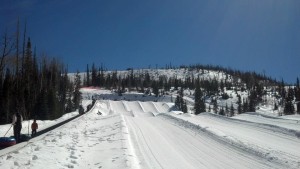 I can't explain to you the excitement on my kids' faces!  As seen above on the left you take a moving belt (similar to the ones at the airport) up to the top of the hill.  There you pick one of 4 lanes and wait your turn.  The friendly staff explain the proper way to use your tube; they have tubes for smaller kids that have a closed hole (so they don't slip out) and then opened hole tubes for us "big kids". The one thing they stress is that when you reach the bottom of the hill to make sure to dig your toes into the snow to slow down so you don't run into the cushioned wall at the bottom of the hill.  You can tube down the hill as many times as you can squeeze in during your 90 minute slot.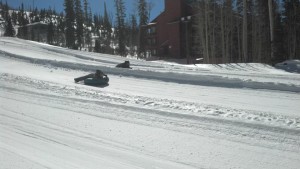 After of tubing fun; we dusted ourselves off and traveled a short distance down the road to the Grand Lodge for a nice warm lunch! I recommend their nachos; they are delicious and very filling but if you ask my kids; they say go with the bacon cheeseburger. We decided to dine on their outdoor deck.  They have 2 very large tables with fire pits running down the center. They have a full service bar and pool tables.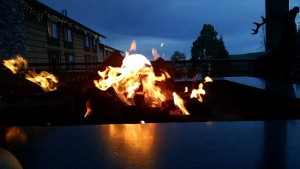 Well it was around 3pm and time to leave the snow and head home.  We really enjoyed our day trip.  Beside snow tubing Brian head also has ski and snow board rentals and lessons available.  They have complete packages starting at $35 and lift tickets starting at $35. If you need lessons they start at $98 per day as well. I think next time we venture up to Brian Head we might try the skiing package!
Brian Head's opening day for this winter season is Friday, November 19th 2015!