Kayaking at Gunlock Reservoir
Just 15 miles northwest of Saint George, the 266-acre Gunlock Reservoir is great for kayaking, swimming, and fishing, but far enough off the beaten path that it is usually not crowded.
Tranquil, smooth water is what you want when you go kayaking, and thanks to fewer people and fewer boats, that's what you will find at Gunlock Reservoir. Warm too! Mild winters mean the water temperature can be around 80 degrees in mid-summer.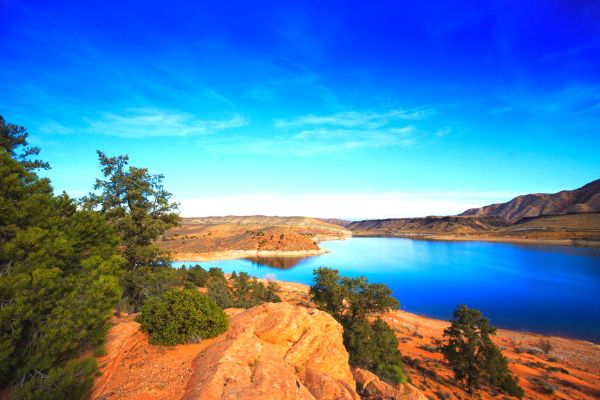 No Kayak? No Problem!
Have a great day on the water at Gunlock Reservoir even if you don't own a kayak. Rent one!
Ivins Sporting Goods – Rent standup paddleboards, longboards, shade tents, chairs, floaties, life jackets, coolers, and towels. Ivins even delivers to Gunlock Reservoir so all you have to do is go to there and enjoy your day. Ivins Rentals is in Ivins, Utah. Text them at (385)335-6068
Dig Paddlesports – Kayak and SUP rentals from an outdoor recreation shop near St. George. Don't know where to paddle to? Dig Paddlesports can take you on a guided tour of the Reservoir. Call Dig at (435) 467-9988.
Gunlock State Park – Rent kayaks at the main gate of the park. Tandem or single kayaks, and paddle boards are available. Call (435) 218-6544 for more information.
Gunlock Reservoir for Kayaking, Fishing, and Swimming
Gunlock Reservoir is great for swimming and fishing too. A large portion of the lake is set aside just for swimming. Jump off big rocks that stick up from the water and sun yourself on the sandy beach.
Fish for your lunch and dinner in the early morning or late evenings when largemouth bass are most active. Get a Utah Fishing License and grill that big fish under a beach pavilion or back at your campsite at Zion River Resort.
Love waterfalls? When the occasional rains in late winter or early spring cause the reservoir to overflow, you'll be treated to the sight of a temporary waterfall. Bring your camera!
Outdoor Adventures Begin at Zion River Resort
Reserve your cabin or RV site at Zion River Resort and explore all the outdoors fun Southern Utah has to offer, including Gunlock Reservoir.
---